About to start your stint in Japan as an international professional and wondering how to rent real estate property in Japan? This post will give you all the answers you need.
Any person who is coming to Japan on a temporary basis – on a posting or in a professional capacity – would like to rent a property to live for a few months or a couple of years. If you're one of such people, either your company can help you stay in a property that it has taken on lease, or you can contact a real estate agency or a real estate agent to find a rental property in Japan.
To enable the real estate agent to find you the perfect real estate property in Japan to rent, you may need to provide the following information:
The size of the property.
The number of people who will be coming and staying with you (family members, partners, colleagues).
The proximity of the property to your workplace or the ease with which you can reach the workplace using a bus, train or a commute in a vehicle.
Whether you need a furnished, unfurnished or semi-furnished rented property.(Not many furnished property in Japan!)
Your budget.
Is it easier to find rented property in Japan as an international professional?
The Japanese landlords are generally reluctant to rent their properties to foreigners because of the added inconvenience and uncertainty. All the contracts and agreements are written in Japanese and many landlords think that as an international professional you may not be able to understand them, or extra help might be required.
The Japanese are devoted to their customs and sometimes they feel that foreign nationals won't be able to relate to their sense of adherence and this may end up causing some sort of conflict.
Some owners think that foreigners leave before the contract is over and they skip paying the remaining rent.  Also, It's difficult for the Japanese property owner to pursue them in a foreign country.
But, it doesn't mean that you cannot rent a property in Japan as an international professional. With the right sort of help, you definitely can. In fact, there are many landlords who prefer to rent out their real estate properties specifically to foreigners or international tenants.
Many landlords work with trusted real estate agents and agencies on an ongoing basis. When these agents or agencies recommend an international tenant, the landlords easily make their properties available.
The best way of going forward is to work with a real estate agent or a real estate agency you can completely depend on. For example, as one of the most experienced and resourceful real estate agencies in Tokyo, we can closely work with your HR department in your company to make the process of renting real estate property as smooth as possible.
Since most of the forms in Japan are filled in Japanese, we can help you with that. For example, if you want to apply for water, electricity and gas, we will help you fill up the forms in Japanese.
We will be there for you during your entire stay. Whenever you run into a problem and you need to consult someone who can look at things from your perspective, you will be quickly able to reach us.
Deciding the place where you would like to rent property in Japan as an international employee or businessperson
Since you cannot rent property casually, you must seriously consider where you want to rent your real estate. Once you have moved in, it is difficult to terminate the contract if you find it inconvenient and you would like to seek out another property to rent.
You should start your search (or let it be known to your real estate agent) by finding out exactly where is your workplace or in which geographic area you will be mostly conducting your business.
This will help you find out where you should find a property to rent. After this, if you cannot afford the property or if you cannot find the right property, you can expand your area gradually and see if you can find the next best option.
Remember that commuting regularly can be a problem. It may cost a lot. You may end up spending lots of time travelling to and fro. All the money that you save by renting a real estate property far away from your workplace just because it is in the suburbs, and hence, cheaper, may be spent on travel and in terms of time lost.
Nonetheless, finding a property to rent in a place like Tokyo or Kyoto can be an uphill challenge. So, weigh your options according to your budget and convenience.
The method of measuring property in Japan for renting purposes
For renting purposes, properties in Japan are not all measured in terms of meters and feet; they're measured by the number of tatami mats that can cover the floor area. Two tatami mats make up one tsubo(坪), which is often the measurement unit.
Different cities and towns may have different sizes for tatami mats(畳). For example, in Tokyo the tatami mats are of size 1.6 m x 0.88 m. But the average size is often 1.8 m x 0.9 m.
Get it clarified by your real estate agent when trying to rent property in Japan as an international professional.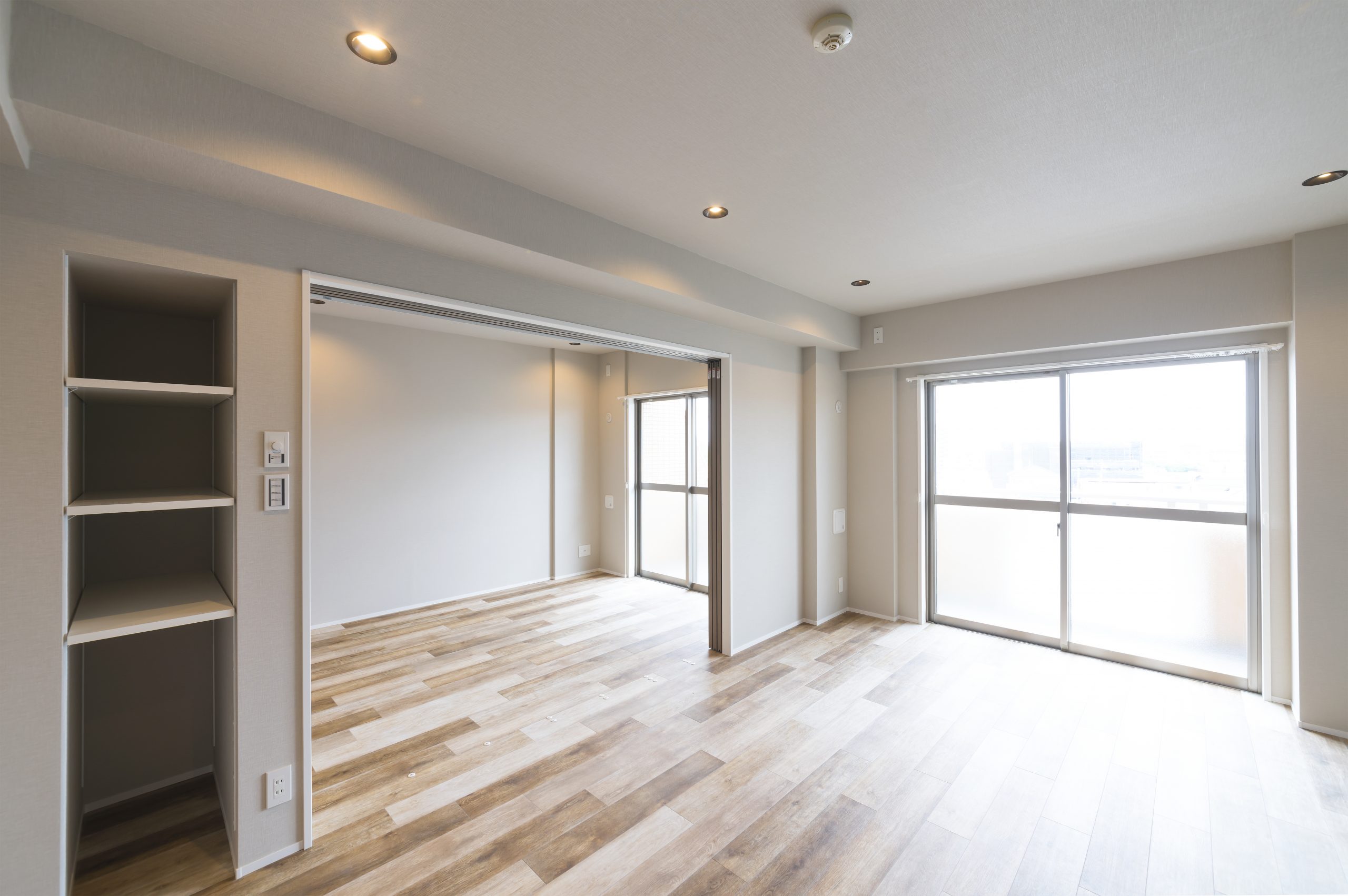 Searching for property to rent in Japan as an international professional
The best way of going forward is contacting a real estate agency or a real estate agent. He or she knows what the reality at the ground level is. He or she is constantly interacting with property owners across Japan.
To enable your real estate agent to find the perfect property to rent in Japan, try to provide the following bits of information to him or her:
The monthly rent you are comfortable paying.
When you would like to move in and for how long you want to rent the property.
The location of the real estate property you want to rent according to how much you would like to commute or how little you would like to commute.
The type of property would like to rent – an apartment, a freehold property or mansion.
The floor space – exactly how much space you need for yourself, for your partner or for your family.
The layout – whether you want a traditional home layout or a studio apartment.
Furnished, unfurnished or semi-furnished.
How much money you can spend upfront.
This much information will be enough for your real estate agent to find the perfect property to rent in Japan.
What exactly is the total cost of renting real estate property in Japan as a foreign professional?
Please keep in mind that it isn't just rent that you will be paying. There are many additional costs that you may have to bear before you can move in, or while you stay in the rented property. Given below is the breakup of the various costs that you may have to incur when you are renting property in Japan whether you are an international professional or a Japanese resident:
Security deposit: This amount you have to pay when the lease contract is signed. In case there are some damages during your stay money from this amount will be used for repairing and cleaning up. It is normally equivalent to 1-2 months of rent. Whatever amount is remaining, will be returned to you when you leave.
Key money: It is a token of appreciation that you pay to the landlord for signing the lease contract. This money is not returned. It is equivalent to 1-2 months of rent.
Insurance policy: This will be a non-life insurance premium that you pay to cover damage to the property and your belongings. This will be demanded by the landlord or the real estate agency handling the entire transaction.
Agent fee: The money you will be paying to your real estate agent for using his or her contacts and making the effort to find the right property for you to rent in Japan. It is equivalent to 1 month of rent + tax.
Pro-rata advance rent for the month: You have to pay rent for all the days that you use the property in Japan. If you sign the contract in the middle of the month, you will have to divide the total monthly rent by 30 (the number of days in a month) and multiply the result by the number of days remaining in the month, and then pay this amount to the landlord. For example, if your lease contract is finalized on November 17 and the monthly rent is ¥ 70,000, the rent that you will be paying will be 70000/30 x 14 = approx. ¥ 32,700.
Management fee/Common service fee: If you live in a condo or an apartment building, there will be a company or a resident association maintaining the overall property for all the tenants. You will need to pay a monthly maintenance fee for keeping the common areas clean and common amenities running, like water, electricity, reception area, garden, stairways and hallways. You have to pay it when you pay the rent. As mentioned above, the same logic is applied to management fee that is applied when you move in the middle of the month. This amount is normally 5-10% of the rent that you pay for the property.
Moving expense: You will have to pay to the service who helps you move in. The service will help you move your furniture to the rented property.
Original condition restoration: Normally such costs are covered through the security deposit that you make when you sign the lease contract, but if it is more than the security deposit that you have paid, you may have to pay more either during your stay or when your lease contract ends.
Finding a guarantor
You need to find a guarantor when you are renting property in Japan. A guarantor is like a security cover for a property owner. If something goes wrong and you vanish, the property owner can approach the guarantor and ask him or her to compensate.
A guarantor usually needs to be a local contact. For Japanese people this guarantor is normally a relative or someone they know, but since you will be coming from another country it will be difficult for you to find a guarantor on your own.
Fortunately for you, there are guarantor companies that can act as your guarantor for a fee. Your real estate agent or real estate agency can help you find an appropriate guarantor.
Remember that you will need to get a guarantor before you can approach a property owner to rent a property.
Paying close attention to the lease contract
In Japan there are two types of lease contracts when you are trying to rent a property:
Normal lease contract: The same contract will be renewed when the current contract expires, and you mean to stay at the same location. A contract renewal fee will be required and some other expenses for preparing the documentation.
Fixed-term lease contract: This type of contract is not renewed when the current contract expires. Even if you keep living in the same property, you have to go through the same processes as you went through in the beginning, also paying the real estate agent's fee again.
Learn some rules about living in Japan when you rent a property as an international professional
Japanese landowners are very particular about their tenants living within the parameters of rules specified in the beginning. Most of these rules are not very restraining, but they make sure that the property is properly used, and it is not damaged.
When living in a rented property in Japan, you may need to take care of the following:
Disposing rubbish: Make sure that you dispose of the rubbish after separating bottles, cans, plastics and newspapers. You will have to be careful of disposing of toxic materials and shouldn't put them outside with other garbage. Also, the garbage is picked on specific days, so be sure to put the garbage out during those days. Beside, there are apartments which you can dispose them 24 hours.
Using the amenities carefully: This may involve not overusing the electricity or being careful when using fittings and furnishings.
Being sensitive towards other residents: This is applicable both for the neighbourhood and for the people living in the shared accommodation. When you're living with the others, you need to be mindful of their convenience and need for peace. For example, it wouldn't be advisable that you play the TV in the common room at 3 AM watching your favorite action movie!
Using the bicycle and car parking allocated to you.
Once everything is reviewed and both the parties – three parties if you also count the real estate agent or agency – have agreed on all the conditions mentioned in the lease contract, and all the payments have been made, you can obtain the key from the landlord and start moving in.
If you have any questions regarding to "How to find rented property in Japan", you can contact us anytime!